A flexible model that allows employees to work from remote locations for part of the week and from the office for the rest of the days is a hybrid workplace model. After the pandemic crisis abated, companies had to evolve and adapt to employee-centric needs.
While working from remote or home was welcomed in the initial stages of the Covid-19 days, most employees suffered the impact of a lack of socialization.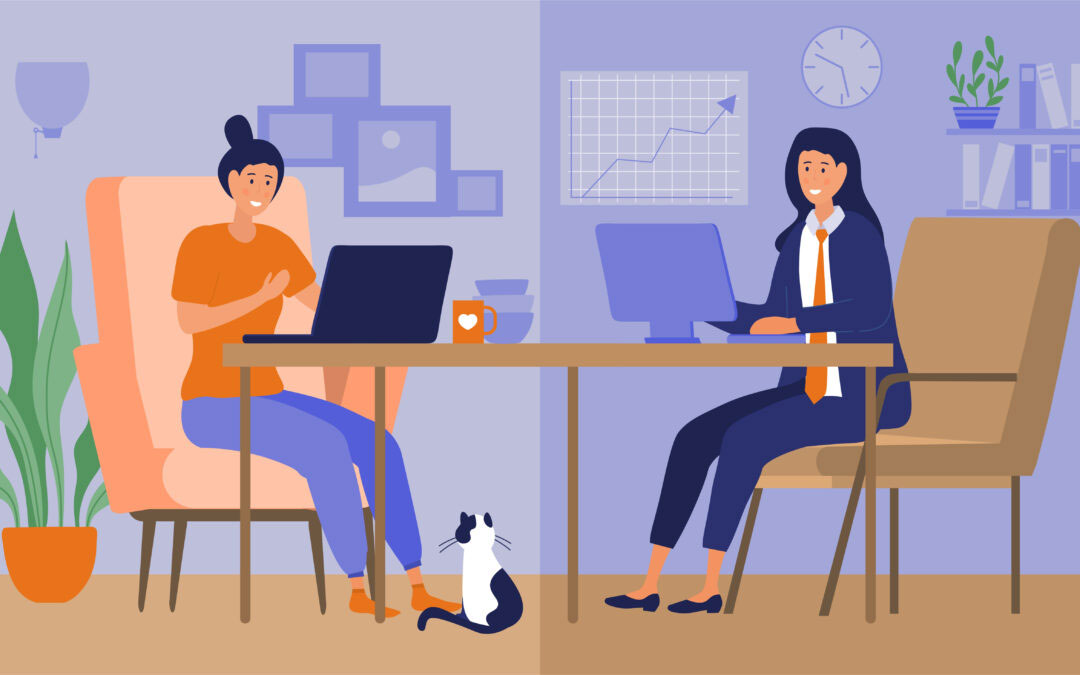 A hybrid model enables employees to balance their work and personal life. An employee with an aging parent, a toddler, or a new pet can spend some quality time with their loved ones, caring for them while completing their work without delays. 
Hybrid workplace environment
A hybrid workplace is not limited to a single-point structure. Teams can be located across time zones and geographical locations during their remote working days.
This ability to provide an environment where employees can work from home for all plausible tasks is enabled by technological advances.
Employee engagement and experience
A few decades ago, leadership could not fathom the ability of electronic transmission, internet-enabled advancements, and deep learning methods like artificial intelligence and neural networks, that are creating sustainable remote operations possible for as many industries as possible. 
However, the success of any model tests the ability of the experience of the end-user. When it comes to workplace solutions and work culture, the end-users are employees, hence their engagement and experience matter for the success of a hybrid workplace. 
If strategically planned, hybrid workplaces can be optimized as an efficient model and help in attracting, nurturing, and retaining the best talent. So companies need to take inclusive steps in rolling out and operating their hybrid workplace model in the following manner
Let productivity be the driving force
Assuming that companies are interested in business-as-usual days to be maximum in transition periods, they need to ensure that every aspect connected with productivity is double-checked in their list. A few things from such lists as an example are:
IT systems are in place to handle safe logins from multiple remote locations for different teams.

Data security is ensured

Communication channels and virtual meeting room credentials are in sync with company policies

Teams are trained in using the new tools that will help in working from remote locations and collaborating easily.

The digital employee experience is robust and captures the employee insights so that it is used for a clear perspective for the management and leadership staff. 
At the end of the plan, the single point focus will be to avoid the adverse impact on the productivity of the teams. 
Also Read: 10 Preparation Tips to Achieve the Perfect Corporate Headshot
Any workplace is effective and successful only when the employee experience is enriched. The guide to improving the employee experience is by including them in the decisions of how a hybrid workplace model has to be designed. So it is a good practice to take suggestions from employees through surveys and feedback.
While it may not be possible or business-centric to approve all the suggestions of the team en masse, it is doable to accommodate as much as possible. A team member should be able to deliver their best irrespective of their work location. This point is the crux of a successful hybrid workplace model.
Discussions based on future goals, how teams work best together, and how best they work independently will answer most points. It is also evident from such discussions that working from home or a remote location is not a feasible option for every individual. 
Determine the work-week model based on the location
There is no specific standard as to which days are best for onsite work and which can be determined as remote work days. It is entirely business specific and should be determined as per the business and employee needs.
However, it is a healthy start to at least meet the colleagues and team members once a week to maintain the camaraderie and work-wise networking requirements. 
How an organization splits the week based on the task requirements determines the employee experience. Few organizations have a free-will model where employees can choose a specific number of days they will work onsite and the rest will be remote working.
Others mandate fixed days as onsite days to meet and complete important stuff that is best carried out in physical meetups. 
Comprehend other's perspectives for better coordination
Communication is the most important feature for success in any task. Often employees need reiteration of instructions or process flow through verbal and written communication.
Since physical meetings are not possible on the days employees work from home, the meeting room features have to be effectively used. Employees have to be trained so that they can maintain decorum, wait their turn and participate with their points in a virtual meeting. 
Digital tools should be efficient
Investing in technology that is not purposeful will be appreciated by very few employees. Technology should ease the process and not complicate the existing workflow for teams.
Right training in using the relevant tools has to be provided and should be done for every upgrade so that teams are not left to work with methods they don't fully understand. Entities have to ensure that all the employees have access to all the digital tools and technology that they may need to work from a remote location.
The touchpoints in technology should be designed to capture employee insights that go unnoticed yet form the basis for future decisions in the work process.
This feature is usually carried out by the trained eye of a good manager, however, with the physical distance the only way such information is captured is via digital touchpoints. 
Also Read: 40 Professional Work Outfits For Bald Men
Conclusion:
A hybrid workplace is a new-age solution that was adopted after a pandemic-induced change that is widely adopted by global entities.
Organizations value their human capital and are willing to go the extra mile to provide the best working model and conducive work culture to retain the best talent. If planned and done, hybrid workplace solutions will help companies ace their pace in human resources.
A hybrid workplace will always have some people remotely working. A small token delivered as an acknowledgment of their hard work is always a good idea. Nothing extravagant but some bright blooms from this online flower shop in Abu Dhabi.